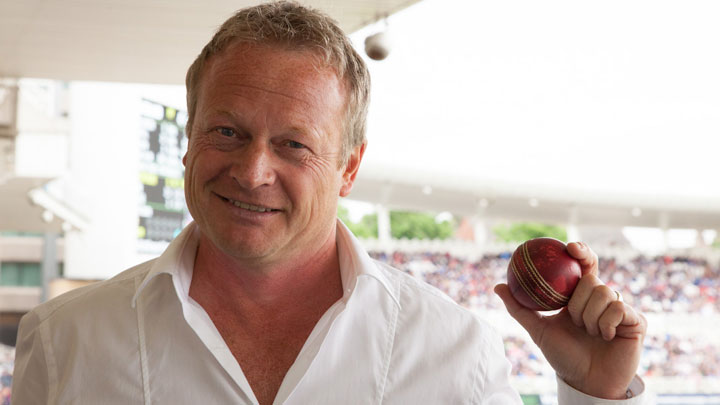 Chris Newell looks very much at ease. Relaxed and about to enjoy a wonderful meal in box 17 at Trent Bridge his demeanour belies the fact that he is going home today £50,000 richer thanks to a fantastic piece of bowling during the half time interval.
Set the challenge of bowling and hitting three stumps, then two stumps, and then finally one single stump in successive balls Newell mastered his nerves and skill to dislodge the bail(s) with each delivery.
Whilst some competitions like this during the interval can result in spectators heading for the bar the crowd in the William Clarke and Fox Road Stands were captivated, cheering each successful attempt and, with the third the ground erupted.
Meeting Chris, 50, afterwards we had a few burning questions we wanted answers to.
Firstly, does your wife know?
"She does now. Actually she was in the car when I called with my two sons. They were all cheering and screaming when I told them."
Your bowling was pretty sharp- who do you play for?
"(laughs) Well I'm originally from Yorkshire so I guess there's a bit of the old Fred Truman in there somewhere. My boys both play for Herefordshire and I've been watching them to pick up some pointers. But I've not played properly for 20 years."
Any plans for the money?
"A family holiday. If we can get tickets we'll go to Melbourne for the Boxing Day Test at the MCG later this year, but if then the Caribbean."
After your achievement Michael Vaughan said on Twitter that that Australia have fast tracked (him) into their squad. Any comments?
"Well being from Sheffield like Michael I don't mind what he has to say."
Lastly, what was going through your head when you were out there?
"With the first ball all I wanted to do was try and hit the stumps, then I just wanted to repeat that with the second."
"When it came to the third I don't know, I was in a dream. The crowd were really helpful and with that third ball I wanted to do it more for them than for me."