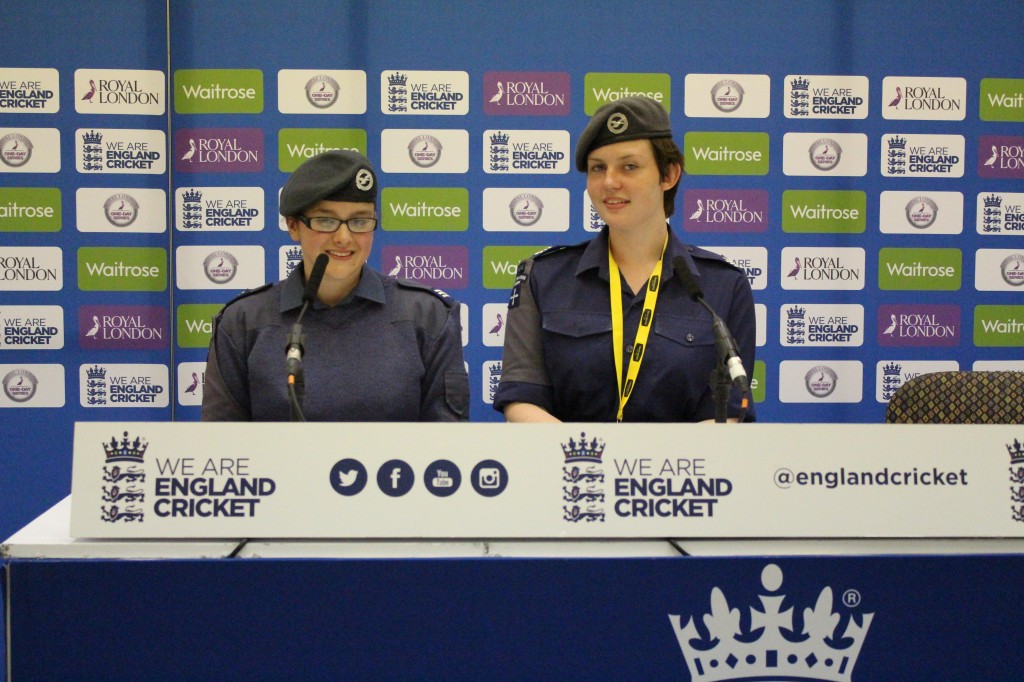 … and the Express, Metro, Independent, Times and other newspapers who have reporters here today.  Once the match is over they will descend on the squash courts behind the main pavilion, where the post-match press conference will be held.
This area is being looked after by some of the thirty plus members of the Air Cadet Corps who are here today to help out. We spoke to Nicole and Nicola from the 504 West Nottingham Squadron, who have been guarding the press conference area this afternoon.
Nicole helped out last year and said "I love it". "The staff at Trent Bridge look after us, the are all very friendly and there is a great atmosphere".
As well as looking after the press conference area, they have been working with the the Trent Bridge  Ashes Legacy volunteers (they are the ones in the purple T-shirts) to make sure that spectators are welcomed,  providing directions to people from the car parks and running a 'photo booth'.
So far they have had a quiet afternoon, but as Nicole says "After tea it could get rowdy'. She could be right, especially if the match is as close as the others have been in this series, but at least it will give the press lots to talk about after the match.