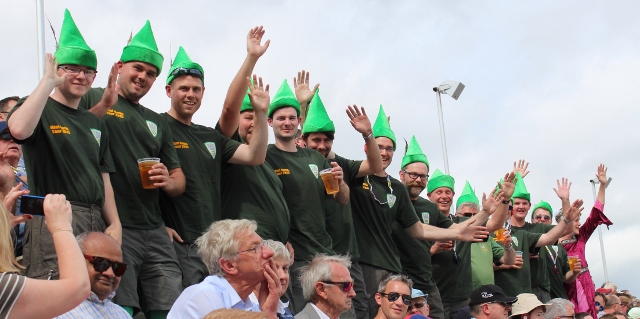 Conwyn Cricket Club are here!  The club have built their day out at Trent Bridge around a number of  games with local cricket clubs.  In tribute to their hosts, they have all come today in Robin Hood dress.
All except for Patrick, who as the Englishman in the team gets to dress up as Maid Marian. He told us "We are having a great time.  We played Nutbrook last night, and tomorrow we play Notts and Arnold".
There are fifteen of them on the tour, plus one or two extras who have joined them today. "Trent Bridge is a great place to see cricket", Patrick adds "It's really friendly and we have been made very welcome".
With fourteen Robins for company, this is one maiden who looks likely to have a long day in the field.