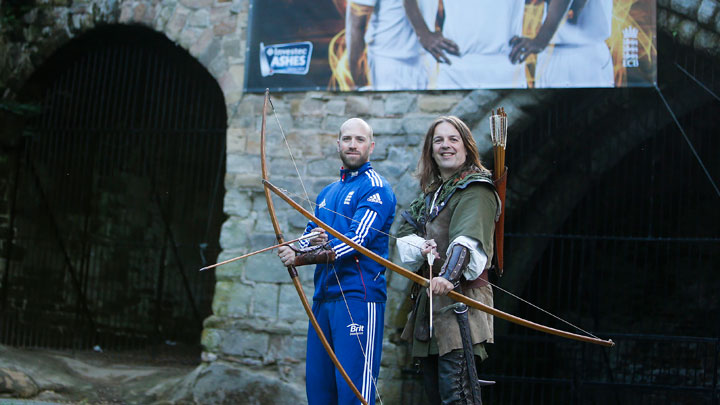 With just under two weeks to go before the biggest cricket event of the summer begins, Matt Prior is struggling to put into words how excited he is.
As the contest draws closer, the hype of it all starts to hit home with Prior extra excited to get back in an England shirt and beat their oldest enemy.
"Playing Ashes cricket is like nothing else for an English cricketer and it provides a fantastic opportunity and honour which is different to any other series," Prior said.
He added: "That is not to take anything away from any other test series playing for England but it shows how fantastic it is to be part of Ashes cricket."
Prior was speaking at an ECB photo shoot at Nottingham Castle for part of the Rise For England campaign.
Whilst there he was given an archery lesson by Nottingham's Robin Hood Tim Pollard and revealed that Trent Bridge is an ideal place for the first Ashes test.
"Trent Bridge is a great ground for us and we love playing there," Prior said.
"Nottingham is a great city and we always get phenomenal support and that always gives you an edge in what is a tight contest.
"It has always been a happy hunting ground for us and fingers crossed come July 10 it will continue to be that for us."
Away from the international scene Prior was in action for Sussex against Nottinghamshire in the championship and said he has many fond memories of the ground.
"I have been fortunate enough to score some runs here in International cricket and county cricket.
He jokingly added: "I really like the wicket here although the ball can wobble a bit much for me as a keeper if I am honest.
"Apart from that I have fond memories of Trent Bridge and I am thoroughly looking forward to coming here for that important first test."