by Dave Bracegirdle
Bringing Ed Cowan to Trent Bridge for the first part of the 2013 summer means that Nottinghamshire could just about field a side full of Australians that have played for them over the years.
A little bit of artistic licence has been allowed with regards to ensuring we had a wicket-keeper – as neither candidate represented the green and gold, although in Riki Wessels' case it could still happen of course!
Anyhow, for a bit of fun, here's Notts' all-Aussie XI in batting order.
1. Ed Cowan – left-handed opener who has joined Notts for the first time in 2013. Has been a member of his country's Test side since Boxing Day 2011 and has often been described as 'cerebral' (he's quite brainy!). Ed is married to Australian television personality Virginia Lette and has written a book about his experiences as an opener, called 'In The Firing Line'.
2. Greg Blewett – one of the more listenable and learned members of the Fox Sports commentary team. Greg played for Notts in 2001 and scored 1,292 runs in 16 first class matches at an average of 47.85. He is amongst the ten players to have scored a century on his debut for the county, hitting 133 at home to Durham. The right-hander played in 46 Test matches, including eight against England.
3. Adam Voges – his 126 against Lancashire at Old Trafford was pivotal in Notts winning the 2010 LV County Championship on the very last day of the season. The Western Australian has been a regular at Trent Bridge since 2008 and has appeared in 15 One Day Internationals and 4 t20 Internationals for his country. 'Vog' skippered Notts during their Friends Life t20 campaign last season and averaged 52.25 from his eight innings.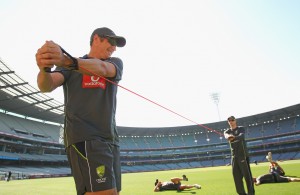 4. David Hussey – one of the most sought-after players in world cricket, particularly in the t20 format where he has played in almost 200 matches, making more appearances than anyone else in the game. 'Huss' began at Trent Bridge in 2004 and retains strong ties with the county but his availability has been somewhat diminished in recent seasons due to his IPL and ODI commitments. He would make a fine skipper of this Aus XI.
5. Wicketkeeper – cricket has very often twisted the criteria over a players eligibility, so why shouldn't we do it again here, to ensure this side has a proper gloveman. Both Lyndsay Walker and Riki Wessels were born Down Under and either could do the job in this side. Walker was born in New South Wales in 1974 and made 12 first class appearances for Notts between 1994 and 1997. Wessels, son of former Australian (and South African) Test batsman Kepler, was born in Queensland in 1985. Asked who he'd prefer to represent out of Eng, Oz or SA, Riki always plumps for England but I doubt he'd turn down a place in this fantasy side – and his batting would guarantee him a warm welcome.
6. Keith Miller – every side needs a pilot amongst its ranks. Having served in the Royal Australian Air Force during World War II, Keith Miller MBE went on to have the best figures of any all-rounder in Test cricket prior to his retirement. In 55 Tests he scored 2,958 runs and took 170 wickets and also played Aussie Rules for St Kilda. In 1959, at the age of 39, he briefly returned to the game to play a few 'exhibition' matches. He came to Nottingham and filled Trent Bridge for his one first class appearance, which saw him score a quite brilliant undefeated century against Cambridge Univeristy. Class.
7. Bruce Dooland – the first of two leg-spinners in this side, who served as a Commando in the South Pacific. Dooland was a South Australia who played in three Tests before coming to England to play his cricket. He made 140 appearances for Notts between 1953 and 1957 and his statistics are just mind-boggling. He took 770 wickets at an average of only 18.85, with a county-best haul of 181 wickets coming in the 1954 season alone. The leggie claimed 75 five-wicket bags for Notts and took 10 wickets in a match on 22 occasions. Oh – and he also scored 4,782 runs. Useful.
8. Paul Reiffel – you can't help who you are and it's a shame that Paul Reiffel wasn't Shoaib Akhtar – but he wasn't. Akhtar was lined up to join Notts for the 2000 summer but turned up injured and a hastily-needed replacement was sought. 'Pistol' was that man, a Victorian veteran of 35 Test and 92 ODI outings, including a winners medal from the 1999 World Cup Final. Still takes international wickets – as a Test match umpire.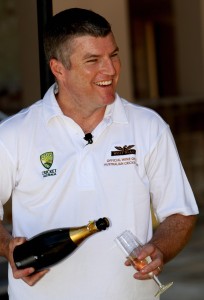 9. Stuart MacGill – our second leggie, who had the career handicap of being around at the same time as Shane Warne. Nevertheless, despite his opportunities being limited, MacGill still played in 44 Tests, taking 208 wickets. During brief stints with Notts between 2002 and 2004 he picked up 122 victims in 32 matches. Now a radio broadcaster, he briefly came out of retirement to play in the 2011 version of the Big Bash, at the age of 40.
10. Alan Walker – left-arm fast-medium bowler from Sydney who played 5 Tests for his country – but not at cricket! The rugby union star scored 19 tries on his country's 1947/48 tour of Britain and France, including a wondrous solo effort against England at Twickenham. Switching priorities, his form for New South Wales earned him a spot on an overseas tour to South Africa but he missed out on a Test berth. In 1956 he spent one year with Notts and wrote his name in the record books by taking four wickets in four balls against Leicestershire at Grace Road.
11. Dirk Nannes – Japanese-speaking, saxophone-playing ski instructing left-arm quick who'd played World Cup cricket for the Netherlands before Oz claimed him as one of their own. Dirk is a t20 mercenary, touring the world to play in big-money tournaments and the number of sides he has represented runs well into double-figures. Crucially though, the photograph on his Wikipedia page has him in an Outlaws shirt, the side he played for in 2010 when he helped Notts through to Finals Day at the Rose Bowl.
12th man – Robbie Kerr – Queenslander who played in 2 Test matches against New Zealand in 1985. The attacking middle-order batsman didn't make a first team appearance for Notts but played 7 matches on trial for the seconds in 1983, registering four centuries at an average of 82.40. But for a couple of fellas called Hadlee and Rice he might have cut the mustard at Trent Bridge!
Not available: Jason Gallian – although born in Manly, New South Wales, the former Notts skipper hasn't been included, despite the fact that he played in Under 19 Tests for Australia. 'Gall', of course, played 3 Tests for England, during his pre-Trent Bridge Lancashire days.